Interested in Joining a Committee?
The Town of Lyman has various committees, boards and commissions that work diligently and generously give their time and talents to promote the future of our Town. Are you interested in becoming more involved? We are seeking volunteers with unique problem-solving abilities, experiences, and ideas to collaborate and make a difference in our community.
Each committee is unique in its purpose and provides services, advice, or recommendations on a variety of issues including recreation and facilities, technology, community development, planning and comprehensive growth, to name a few. Whether you have a passion or certain expertise, or just want to get involved, citizens are invited to take the opportunity to serve on a committee.
If you are interested in joining a committee, please fill out a Committee Application form and send a copy to the Town Manager. You can submit a copy by dropping off at the Town office, or by mail, or by email to: selectboard@lyman-me.gov
Members of a committee must be a registered voter of the Town of Lyman pursuant to Lyman's Municipal Charter.
Committee Vacancies
The following have openings available. For more information, click the links below. 
Please note, not all committees have openings, however vacancies occur on a regular basis for a variety of reasons. Check out our other committees and feel free to submit an application. Submitting an application will add you to an applicant pool and you will be contacted when the next vacancy arises.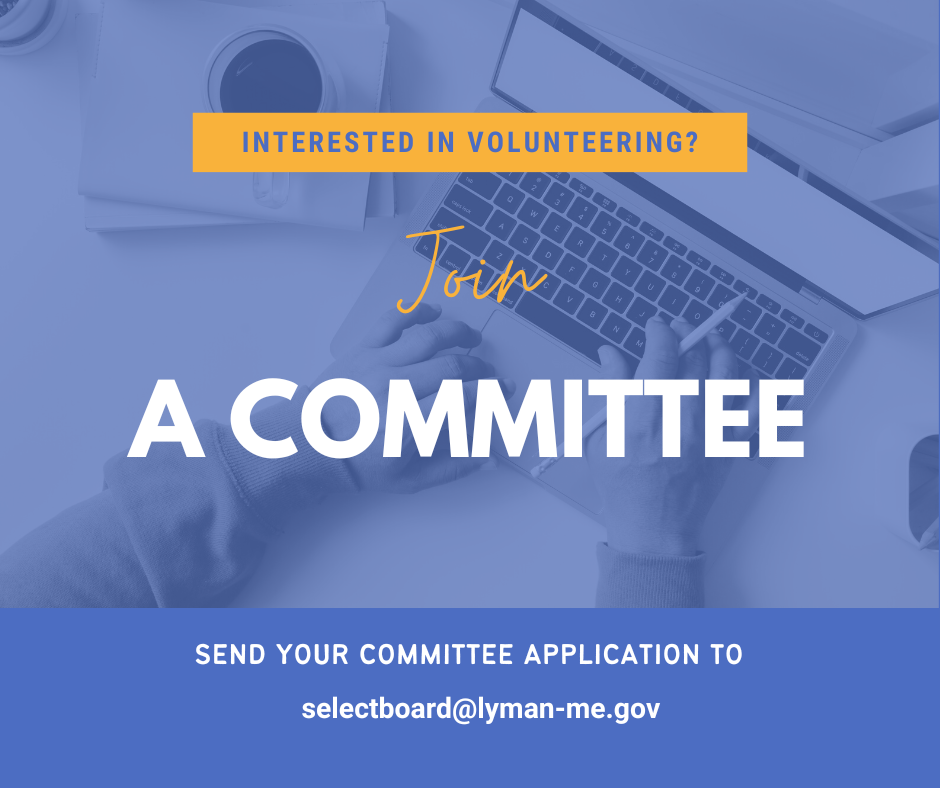 Tell Me More!
Learn about your local government and find new ways to address community challenges and concerns.
Meet new people with various interests while sharing and collaborating ideas.
Apply Today!
Download our Committee Application form here

For questions or more info, email selectboard@lyman-me.gov
or call (207)247-0642
Town of Lyman
Select Board
11 South Waterboro Rd
Lyman, ME 04002
---
Page last Updated on July 27, 2023