Pauline Weiss
Phone: 207-247-0643
Fax: 207-499 7563
Email: townclerk@lyman-me.gov
Please contact me with questions regarding any of the following:
Elections
Vital Records
Dog Licenses

Boat, ATV, & Snowmobile Registrations
Hunting & Fishing Licenses
Oaths
---
DOCUMENT QUICK LINKS

---
Hunting and Fishing Licenses: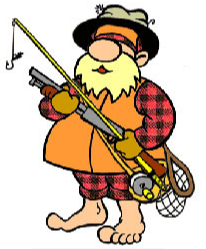 Click on the picture to access the
Department of Inland Fisheries & Wildlife's
website for permits.
Click the following link for the Maine Department of Inland Fisheries & Wildlife website.
Marriage Licenses:
Click here to view the form you will need to bring to the Town Hall to apply for a marriage license. Please call our office for more information before you visit to apply.
Dog Licenses:
Maine Law requires dogs be licensed annually by their owner/keeper in the town where the dog is kept. Licenses expire each year on December 31st. Owners/keepers must renew these licenses by January 31st, or face a State mandated $25 late fee. The cost is $6 for neutered/spayed animals and $11 for animals capable of producing young.  Please bring rabies and neuter certificates with you to the Town Hall when registering your animals.
NOTICE:
The State mandated $25 late fee for unlicensed dogs will be reinstated on June 3, 2021. To license your dog(s) you will need the current rabies certificate and spay/neuter certificate (if not already on file). The cost is $6 for dogs neutered/spayed and $11 for Male/Female. License your dogs by June 2 to avoid the additional $25 late fee.
Public Notice PDF: Dog license late fee reinstated
Page last Updated on December 8, 2022