Your Right to Know: The Maine Freedom of Access Act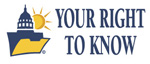 The public's right to information about government activities lies at the heart of a democratic government.  The Maine Freedom of Access Act ("FOAA") grants the people of this state a broad right of access to public records while protecting legitimate governmental interests and the privacy rights of individual citizens.  The act also ensures the accountability of the government to the citizens of the state by requiring public access to the meetings of public bodies.  Transparency and open decision-making are fundamental principles of the Maine Freedom of Access Act, and they are essential to ensuring continued trust and confidence in our government.
This website was created as part of the state's ongoing effort to educate and inform state employees and the public about the Maine Freedom of Access Act.  On the site, you will find general information about the Freedom of Access Act, including information on how to make a FOAA request, answers to frequently asked questions, and regular updates on other important freedom of access issues.  Providing universal access to resources that will inform and educate state employees and the public on the Freedom of Access Act is not just an aim but a priority for the state.
Open government is good government and the state is committed to ensuring and protecting your "right to know."
Please fill out the FOAA Request Form and submit to Nancy Brandt, Public Access Officer in the Select Board Office at Town Hall.
Policy Governing Access to Public Records Policy
1-7-2019 Approved Policy Governing Access to Public Records Policy
Nancy Brandt – Public Access Officer
mailto:selectboard@lyman-me.gov
When may a governmental body refuse to release the records I request?
The FOAA provides that certain categories of documents are not public records. Included among these records that have been designated confidential by statue, documents subject to a recognized legal privilege such as the attorney-client privilege of the work-product privilege, records describing security plans or procedures signed to prevent acts of terrorism, medical records, juvenile records, and the personal contact information of public employees contained within records. 1 M.R.S § 402 (3)(A)-(O)For a list of records or categories of records deemed by statue to be confidential or otherwise not a public records, see the Statutory Exceptions List at www.Maine.gov. While this listing may not be totally complete, it contains the vast majority of exceptions to the FOAA.